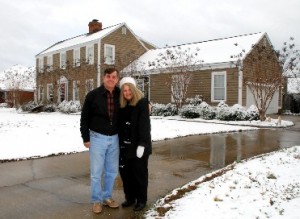 Jim "OJ" and Emily McGriff
I have developed my beliefs over 40 years of first line management in the restaurant, motel general management, territory sales, accounting management, business office management, and dispatch center management.
I retired in 2014, now just doing what comes naturally.
I Believe as a First Line Manager:
Creating Goodwill is the most important function of any organization.
Harmony is the strength and support of all institutions.
We must know that our ideas and feelings are important to our organization.  We must have concern for people and be open to their suggestions. Feedback is essential. Candor must always be encouraged. Sometimes we must agree to disagree.
Personal empowerment and accountability are essential for effective decisions. In an empowered organization everyone is a leader.  We must strive to provide value added leadership.
Teamwork is a growth process; it can not be mandated.
Change is a way of life; it is not optional.
Human dignity must be maintained in all transactions.
Civic rent is an obligation of life.
To make tomorrow better… Start today!
Have "JOY"